Take in the stunning coastal scenery at your own pace, unguided, on one of Tasmania's Great Short Walks. 
Your adventure highlights the unique natural environment of Bruny Island.  Feel on top of the world and marvel at reaching the top of one of Australia's highest sea cliffs and its magnificent views over Adventure Bay and out to Storm Bay. Alternatively, Grass Point offers a shorter and less challenging option with views up to the Fluted Cape. 
Fluted Cape - 2.5 hours circuit, 5.5km adventurous and exciting circuit walk with spectacular views. Some steep areas. Bushwalking experience recommended.
Grass Point - 1.5 hours return, 4km, suitable for most abilities. The track has a hardened or compacted surface that may have a gentle hill section/sections and occasional steps.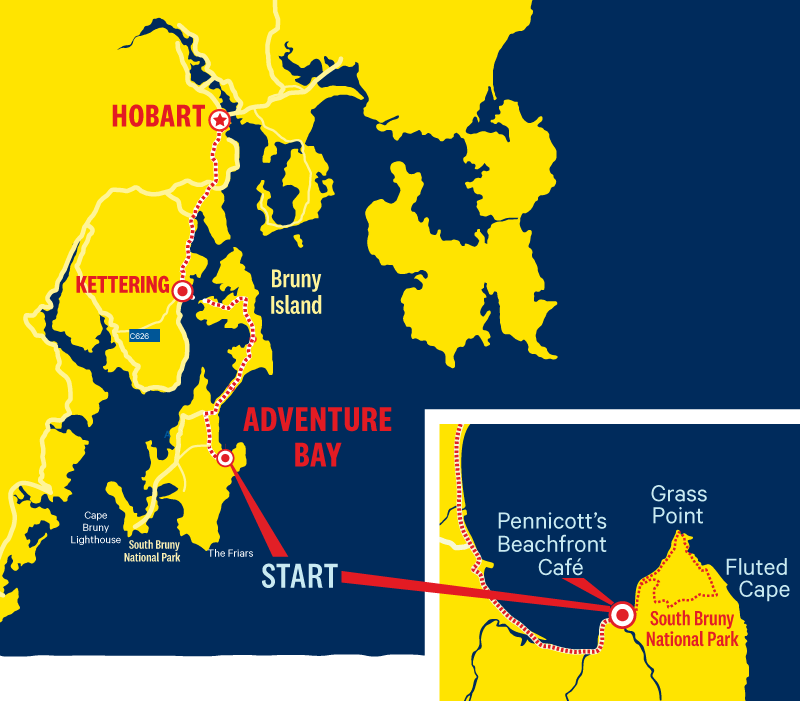 Part of South Bruny National Park, the remarkable Jurassic dolerite cliffs of the Fluted Cape soar over 270 metres. Your walk will take you through dry sclerophyll forest, past tall blue gums, white peppermint and sheoaks. Keep a lookout for endemic birdlife and be amazed at the spectacular coastal views.
You'll also be wowed by the glorious vista from the iconic Neck Lookout. Climb the 240 wooden steps to take in the narrow isthmus between north and south Bruny Island or explore the white sands of The Neck Beach. 
Itinerary
7:45am Departs Pennicott Wilderness Journeys in Hobart
9:00am Ferry Crossing 
10:30am Arrives Adventure Bay
Upon arrival at Adventure Bay, be fuelled by morning tea of a freshly baked blueberry muffin at our beachside restaurant along with a hot/cold drink.  Then set off on your un-guided walk.
Lunch is available for purchase. We recommend our famous Tasmanian fish and chips after your morning walk.  Alternatively, you can bring your own lunch to enjoy in the beautiful surroundings.
Following lunch enjoy a beach walk at Adventure Bay or just sit back, relax, and take in the views.
3:00pm Departs Adventure Bay
4:30pm Ferry Crossing
Returns to Hobart at around 5:30pm
Price & Inclusions
Your Bruny Island Adventure includes guided bus transport, ferry crossing, full day National Parks Pass, morning tea and The Neck Lookout. BYO lunch or choose to purchase at our Adventure Bay restaurant.
$85 per person