Robert Pennicott Launches Tasmanian Seafood Seduction
Nov 14, 2013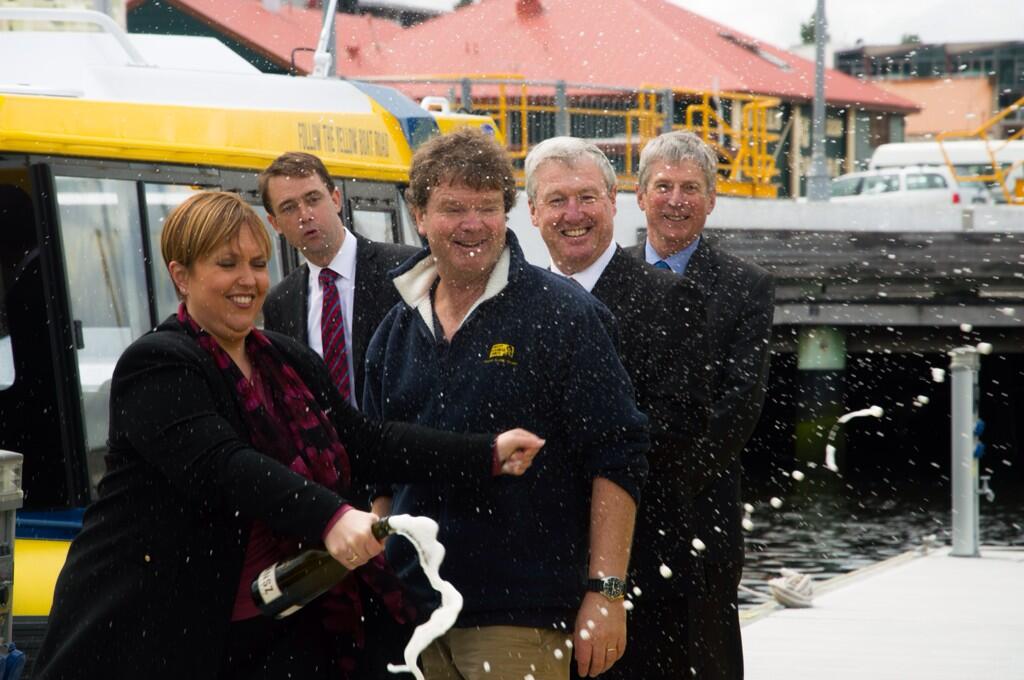 Pennicott Wilderness Journeys today launched a new cruise, Tasmanian Seafood Seduction – a world's first seafood gathering experience. More than one hundred and fifty tourism industry and government representatives attended the event at Franklin Wharf to witness Premier Lara Giddings christen the three new yellow boats.
Tasmanian Seafood Seduction is a full day cruise from Hobart gathering the freshest Tasmanian seafood. The cruise visits Tassal salmon farm and guests enjoy oysters straight from the water at Get Shucked. Experienced local guides dive for abalone and sea urchin and pull a cray pot. Then it's time to enjoy the fruits of the morning's gathering. Guests can assist their guide to prepare a bountiful seafood feast, paired with a delicious gourmet spread of fresh local breads, salads and artisan cheeses, and matched with Tasmanian wines, boutique beers, ciders and juices.
Three new purpose-built yellow boats were designed by Robert Pennicott in collaboration with Naiad and builder Kirby Marine. They will operate cruises from Constitution Dock on Hobart's historic waterfront. The 11.3 metre vessels seat up to twelve guests and have been specifically designed to provide an intimate experience for small groups.
The development of Tasmanian Seafood Seduction has been three years in the making said Managing Director Robert Pennicott.
"We are charting new territory with these cruises to offer a unique, authentic experience to visitors and I am extremely grateful for the support I have received to make this idea a reality.
"Tasmania is such a special place and our seafood is second to none, so we are really excited to be able to give visitors a taste of the lifestyle we enjoy here."
Pennicott Wilderness Journeys has been assisted in the development of the new cruises through a grant under the Australian Government's Tasmanian Innovation and Investment Fund.
"Receiving a grant was a great show of support from the Australian Government, allowing us to invest in new boats, and we have been working closely with the Department of Primary Industries, Parks, Water and Environment, together with the Tasmanian seafood and fisheries industries," said Mr Pennicott.
Minister for Industry, the Hon Ian Macfarlane, has congratulated Pennicott Wilderness Journeys on the official launch of the Tasmanian Seafood Seduction.
"Pennicott Wilderness Journeys is showcasing Tasmania's breathtaking natural beauty, produce, and abundant wildlife to the world," said Mr Macfarlane.
The new boats will also be offering daily Iron Pot Cruises as well as custom tours and charters.
Pennicott Wilderness Journeys is Advanced Ecotourism certified and measurements through the EarthCheck program show the business exceeds global best-practice standards for efficient fuel, energy and water use.
"Sustainability is at the heart of what we do, we work hard to operate with minimal impact on the environment and our new boats have been designed with this in mind, using three low emission, fuel efficient Yamaha F250D outboards" said Mr Pennicott.
"Each year we offset our carbon emissions through Greening Australia. These donations have planted 15,000 trees to date, which actually sequesters more carbon than we produce annually."
These credentials were recognised last Friday at the Tasmanian Tourism Awards, when Pennicott Wilderness Journeys won the Qantas Award for Excellence in Sustainable Tourism for the fourth year in a row. In addition Bruny Island Cruises won Tasmania's best Ecotourism business and best Tourist Attraction – accolades the business is keen to build on with the new cruising activities and boats.